Commentary: Most top scandals of Vietnam's showbiz deserve the names; however, some did not merit such criticisms like Mai Phuong Thuy's poses transparent Ao Dai (Vietnamese traditional dress). Those are artistically beautiful except for some residual conservative segments of the society.
It was also unfortunate that model Vuong Thu Phuong was removed from Miss Vietnam contest even though she had a promising chance before her wedding pictures were released.
Let's review the biggest scandals of the Vietnamese showbiz this year.
Miss Vietnam 2008and her striking photos in ao dai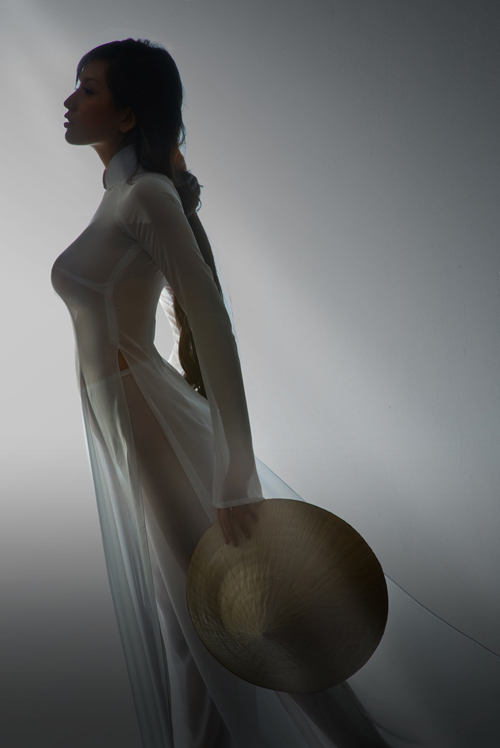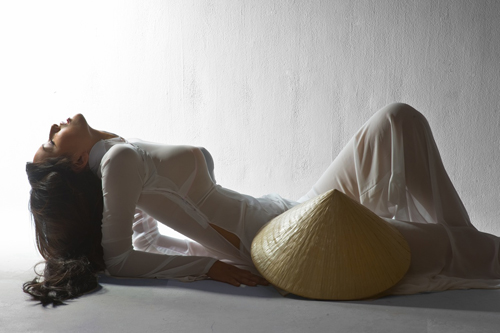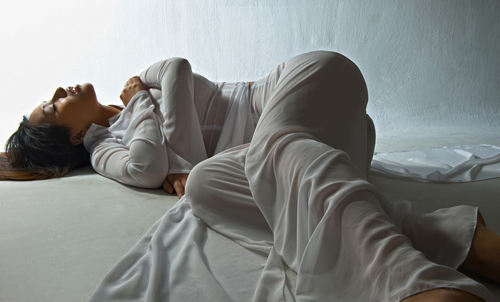 In February 2012, when photos showing Mai Phuong Thuy's body in Vietnamese traditional ao dai were published on an online newspaper, a wave of backlash erupted. Netizens criticized the photos as offensive and erotic pictures.
The idea of this photo shoot is to show the beauty queen's body shape in the Vietnamese ao dai. It would have been nothing if Thuy would have not posed her sexy body too much in some photos.
Many people were disappointed because Mai Phuong Thuy destroyed the pure image of the Vietnamese ao dai. Some were more severe, saying that many photos are "obscene" and claimed to take the Miss Vietnam title of the 24-year-old girl.
Although Mai Phuong Thuy apologized and claimed to be wrong because of "restricted knowledge," the scandal has affected her image in the public eye.
Pop singer's love scandal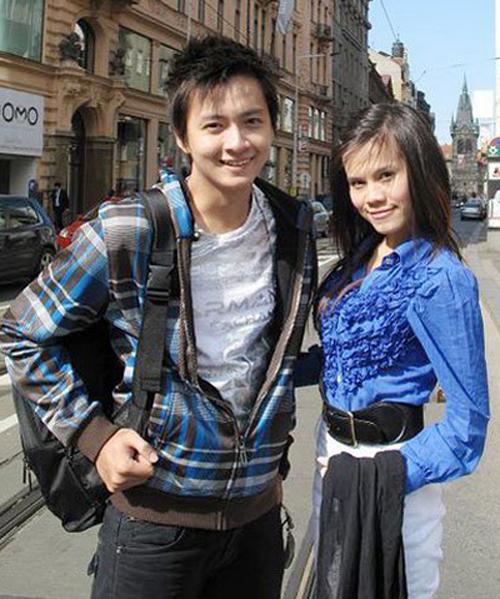 Ngo Kien Huy and Thuy Anh.
In April 2012, the local showbiz got shocked when singer Ngo Kien Huy admitted himself as the father of singer Thuy Anh's baby, named Jacky Minh Tri.
After the arguments between the couple, netizens were shocked when a video clip in which Ngo Kien Huy asked Thuy Anh to have an abortion was revealed. This singer also used indifferent words against Thuy Anh that made her deeply depressed.
Although he admitted to be father of Jacky Minh Tri, Ngo Kien Huy neglected the boy and spent his time with her girlfriend, singer Khong Tu Quynh.
Singer Cao Thai Son claimed to be gay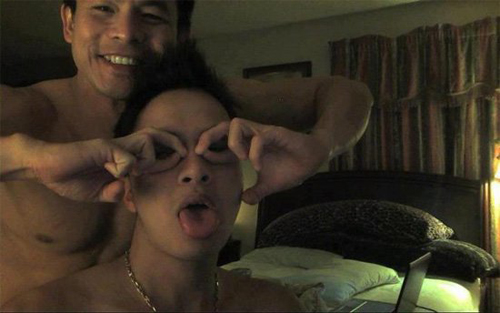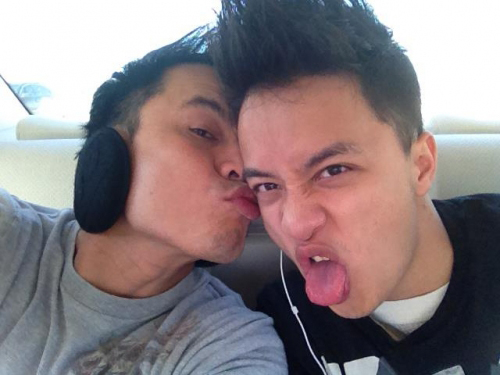 Photos of Cao Thai Son and Adam Nguyen.
In May 2012, the readers were caught up in a gay scandal related to pop singer Cao Thai Son. A Vietnamese American man named Adam Nguyen claimed Cao Thai Son as a gay in his status, pictures and entries. Adam Nguyen said that Cao Thai Son used to be his "lover" and tricked him for money.
The case shocked the showbiz and the local media. However, Cao Thai Son kept quiet. After the singer held a short press conference to claim himself innocent and not being a homosexual, Adam Nguyen made public many evidences, including texts, recording and pictures, to prove his claims to be true.
The case was pushed to the peak and when the public was "eagerly" awaiting the next development, they were disappointed when Adam Nguyen unexpectedly stated to put an end to this and not saying just a word about the incident.
Cao Thai Son is currently happy with his new girlfriend, singer Que Van.
Scandals of teen model Hong Que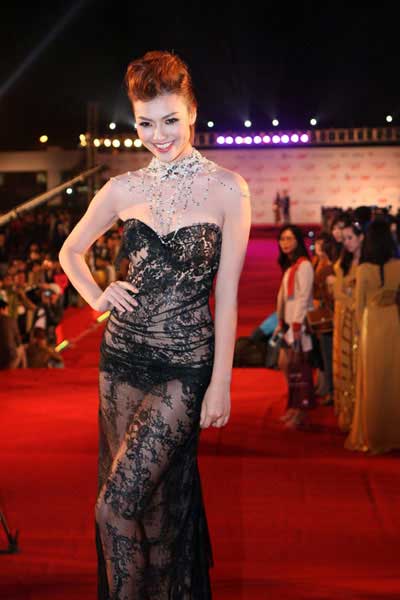 In May 2012, a number of newspapers received letters of Ta Hoang Tam, born in 1986, from Hoan Kiem district, Hanoi, accusing singer Que Van and teen model Hong of beating her at a night club.
According to Tam, when she was on the phone at the lobby of a bar in Hanoi on the night of April 28, suddenly a group of people assaulted her, including Hong Que.
However, Hong Que denied the accusation, saying that she "only discouraged to not beat Tam."    The teen model also said that she was slandered. However, not long after, the police of Tay Ho District said that Hong Que was fined VND750,000 ($ 36) for beating Tam.
In late November, this model made a scandal again, at the Hanoi International Film Festival. Not being an actress or invited to the festival, Hong Que appeared at the opening ceremony in a very offensive dress.
Beauty queens defined as prostitutes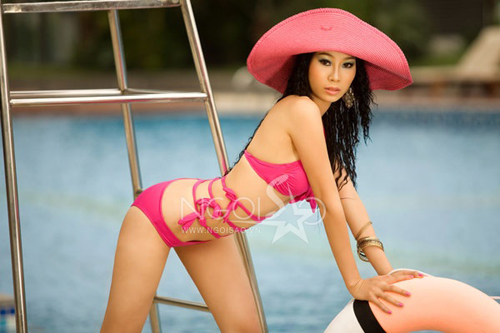 Model Hong Ha.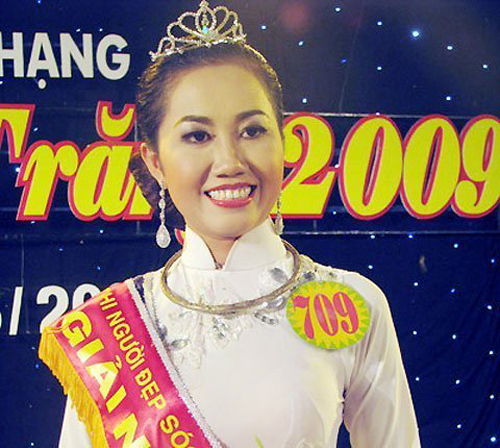 My Xuan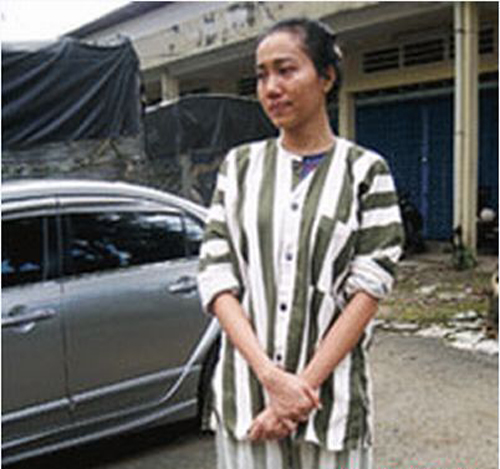 My Xuan in prison.
At the end of May 2012, the showbiz was shocked when the local media reported that model Hong Ha worked as a prostitute. This incident sparked explosions for many other models that were exposed as prostitutes.
In early June, Miss South Mekong Vo Thi My Xuan, the runner-up of Miss Shinning Beauty pageant Thien Kim, hotgirl Jenny Phuong were named in this prostitution case.
My Xuan and Thien Kim were also determined as pimps. This incident was quickly spread and shocked even the foreign press. My Xuan is now in prison with a five year sentence.
Famous model claimed to be deceitful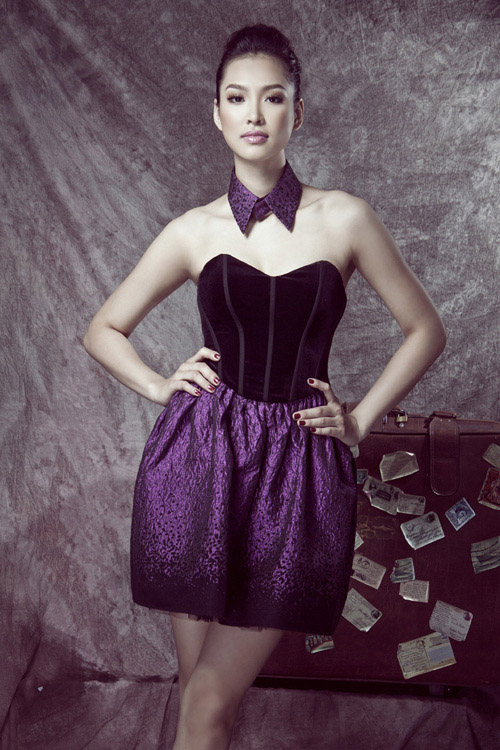 Vuong Thu Phuong.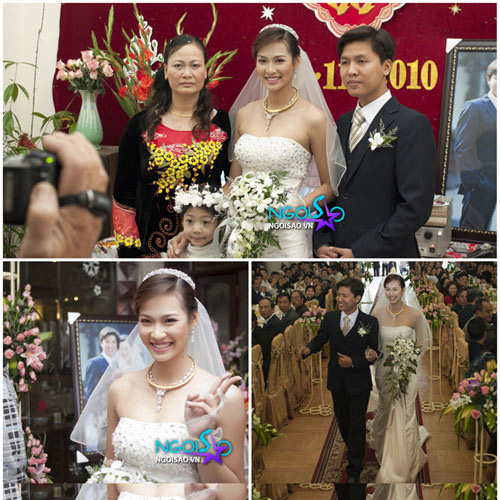 Phuong's wedding pictures.
In August 2012, on the threshold of the final competition of Miss Vietnam 2012 pageant, model Vuong Thu Phuong was considered as the most promising candidate for the crown. However, the dream of becoming the beauty queen closed with Thu Phuong before right before the final night her wedding pictures appeared on the Internet. As a result, the organizers decided to remove her from the competition.
Arranging results of The Voice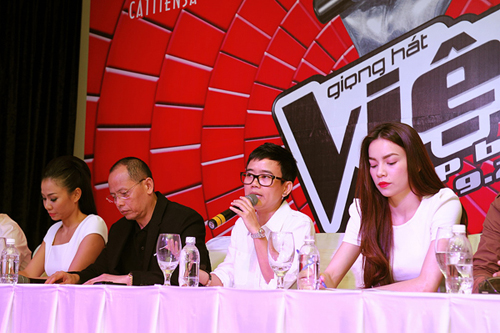 Musician Phuong Uyen (second from the right) and the coaches of The Voice.
Also in August 2012, The Voice reality show, first season, which is a hit show every Sunday night, fell into a scandal that made many people upset and boycott it.
When the third episode of the Battle phase was about to be aired, a clip entitled "The Voice – why Bui Anh Tuan will be eliminated?" was shared on the Internet.
Shortly after this clip was posted, netizens were shocked and stoned the organizers for deception and fooling the audience. After two closed meetings with musician Phuong Uyen, music director of The Voice (who was involved in the scandal), the organizers held a press conference with the participation of all contestants and involved people.
At the press conference, Phuong Uyen cried and admitted her mistake. She also said to withdraw from the position of music director and asked musician Hoai Sa to undertake this role.
The organizers, the four coaches and contestants asked Phuong Uyen to stay with the program. Then, Phuong Uyen decided to submit her resignation and on September 17, it was officially announced that Phuong Uyen resigned.
Pop star "kisses" Buddhist monks
On the evening of November 4, singer Dam Vinh Hung and many other singers attended a charity concert at Khong Ten night club in HCM City to raise funds to support singer Wanbi Tuan Anh's upcoming surgery.
At the event, Dam Vinh Hung offered a rare wine bottle for auction. Before the auction, he promised to kiss the auction winner.
The winners were two Buddhist monks, who bought the bottle for VND55 million ($2,500). Incidentally, Dam Vinh Hung did not hesitate to kiss the younger monk on his lips and the older monk on his hand.
The same-sex kisses between the male singer and the monk made the witness stunned. The pictures "grabbing" the kisses have been quickly spread on the Internet and received harsh comments. Many people said that this image is so offensive, especially in an Asian country as Vietnam. It is harder to accept the same-sex kiss of a monk.
As soon as the case was reported by the local media, the two monks were identified. They were also penalized: being kept in for three months. The young monk then returned to secular life while the singer had to pay VND5 million ($240) fine.
Compiled by T. Van