Commentary: Recently, an international study concluded that traffic police force is the most corrupted agency in Vietnam. The authorities want to give a facelift with the deployment of beautiful policewomen to monitor the traffic.
Female traffic police officially take part in controlling traffic at ten heavily-congested intersections in Hanoi during rush hours from January 3.
The major road intersections are at Trang Tien-Hang Bai, Cua Nam-Dien Bien Phu, Nguyen Chi Thanh-Kim Ma, Tran Phu-Dien Bien Phu, O Cho Dua crossroad, Giai Phong-Dai Co Viet, and Hue street.
According to Dao Vinh Thang, Head of the Hanoi Traffic Police Department, traffic policewomen participate only in regulating traffic flows at peak hours in the morning and afternoon.
Ensuring traffic safety and order and traffic law observance is a prominent solution to reducing traffic accidents.
From 2002 to 2011, an average of 16,000 traffic accidents occurred in Vietnam each year, killing 11,000 people and wounding 13,000.
Some officials of traffic police teams in Hanoi said that traffic policewoman regulating traffic during peak hours in the morning and afternoon at the major intersection would "create beauty and make the people more comfortable."
After the peak hours, these female police officers will return to the office.
Previously, during the big events in Hanoi, many female police officers were assigned to guide traffic at the major intersections.
In Ho Chi Minh City, in late 2010, nearly 40 female traffic police officers controlled traffic at seven "hot spots" during the morning rush hours.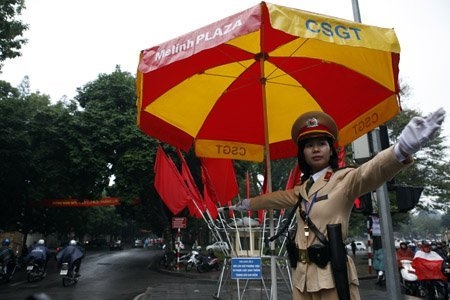 Pham Hai