Commentary: Chinese Foreign Ministry spokesman Hong Lei confirmed that Chinese naval forces's action taken against unarmed Vietnamese fishing boat was legitimate, reasonable and appropriate. In diplomatic language, Chinese confirmed  implicitly the incident of a Vietnamese fishing boat was fired upon in the disputed areas of Paracel islands.
Pictures are pictures are worth a thousand words. Let's see if the Chinese naval forces took action appropriately.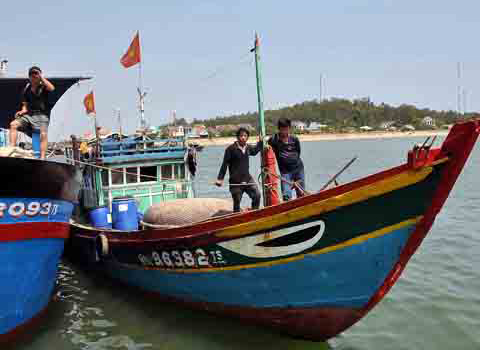 While catching fish in the waters of Hoang Sa (Paracel) Islands on March 20, the boat of Mr. Bui Van Phai from An Hai commune, Ly Son island district, in the central province of Quang Ngai was chased and shot by several Chinese vessels. The ship's ceiling was burned.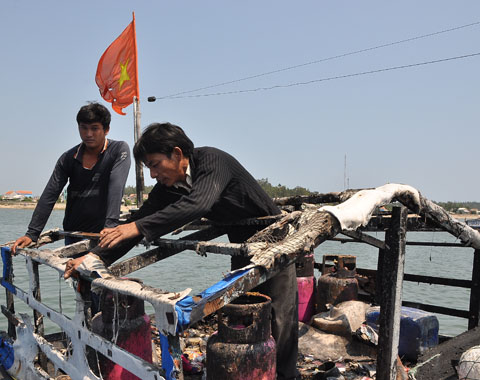 About 30 minutes later, when the Chinese ships left, Phai's ship had to return home because his food, clothing, blankets, mats and fishing nets were burnt. The total loss is estimated at  $15,000.
Still holding the flag intact.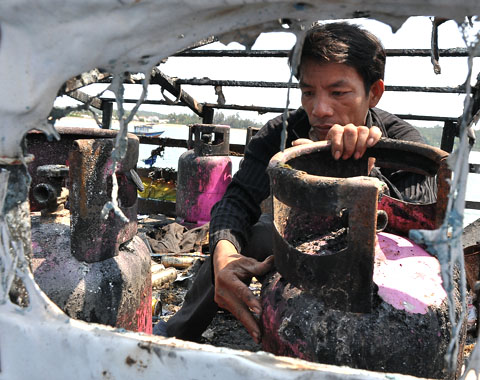 However, it is lucky that the four gas tanks on board did not explode. "If they exploded, all of us would have surely died," one of the fishermen on the ship said.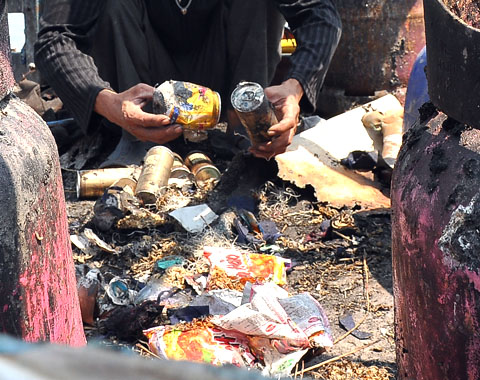 Soft drink cans …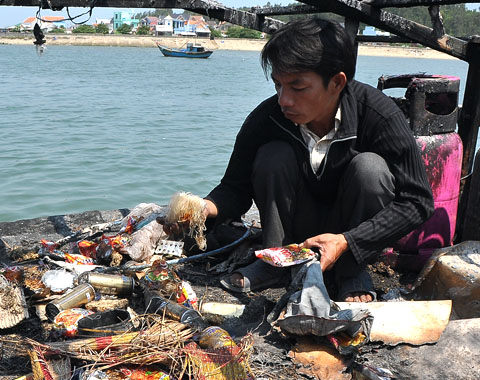 .. burnt packs of instant noodle and clothes of fishermen on the boat.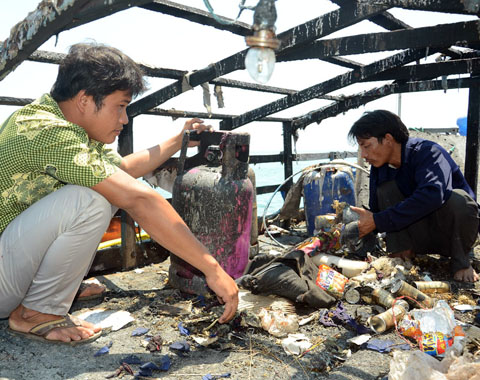 During 22 years of catching fish in the waters of Hoang Sa, according to the captain of the fishing boat QNg96382 – Pham Quang Thanh – this is the most terrible incident.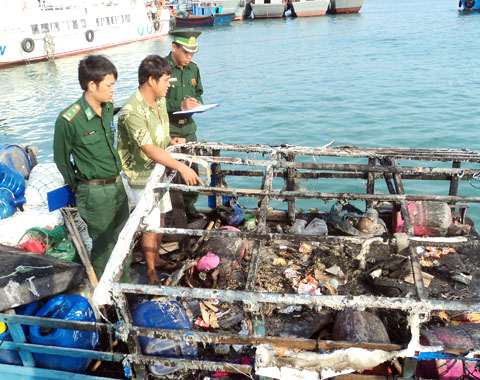 Officers and soldiers of the An Hai Border Control Station and Border Station 328 checked the ship at the Ly Son Port.
It is a tragic comedy to see Vietnamese authorities lodging countless and toothless protests, whereas Vietnamese navy was no where to be found to protect its citizens and the Defense Minister appeals for calmness and Vietnamse leadership adheres to the "good neigborhood policy" with China even though China has illegally occupied Hoang Sa/ Paracels since 1974. Vietnamese Communist Party prefers to lean on the big brother Chinese Communist Party for its survival and ruling the country instead of protecting its citizens and national interests. China's naval forces could have used water hose to chase Vietnamese fishing boats if they were deemed to encroach on China's territorial water.
________________________________________________________________
China has said one of its patrol boats acted reasonably in a confrontation with a Vietnamese fishing boat last week in disputed waters in the South China Sea.
The foreign ministry said it was "legitimate" for China to take action.
Vietnam accuses the Chinese vessel of firing on the fishing boat near the Paracel islands, setting it alight. Both countries claim the islands, which have been controlled by China since a short war with South Vietnam in 1974.
Chinese Foreign Ministry spokesman Hong Lei said: "It is necessary and legitimate for China to take action against a Vietnamese shipping boat that has entered China's waters for illegal activity.
"No damage was caused to the fishing boat from Vietnam at the time," he added, without saying what action the Chinese vessel had taken.
Vietnam has lodged a formal complaint with the Chinese embassy in Hanoi. In a statement released late on Monday, the foreign ministry said the "very serious incident" took place on 20 March.
"Vietnam strongly protests, urging China to investigate and seriously deal with the wrongful and inhumane act, and compensate Vietnamese fishermen for their loss," foreign ministry spokesman Luong Thanh Nghi said.
The news of the incident adds to already tense anti-China sentiment in Vietnam, reports the BBC's Nga Pham in Hanoi, but was not met with surprise.
Earlier this month, two Vietnamese fishing boats were chased out of disputed waters by Chinese marine surveillance ships, local reports said. Vietnamese officials have also reported increased patrolling by China in recent months.
But the use of firearms, if confirmed, points to a more forceful approach from Beijing in protecting what it calls China's sovereign waters, our correspondent says.
Philippine spat
In recent years tensions over territorial claims have been rising in the South China Sea, amid a more assertive stance from China.
China claims a U-shaped swathe of the sea that extends well into what UNCLOS (UN Convention on the Law of the Sea) recognises as the 200-mile-from-shore Exclusive Economic Zones of other claimants.
As well as Vietnam, the Philippines, Brunei, Malaysia and Taiwan have overlapping claims with China.
Last year, the Philippines and China engaged in a lengthy stand-off over another disputed area, the Scarborough shoal, in a spat that left diplomatic ties very strained.
Both the Philippines and Vietnam have sought to raise the issue through the Asean regional bloc, but claim Chinese pressure has forced the topic off the agenda.
Source BBC and VNE