Commentaery: It is  a very inspiring story that these old men worked hard to achieve their academia to set examples for the next future generations. It is never too late to pursue your dreams.
It is further admirable that Diploma Mills industry flourishes in Vietnam that many Vietnamese officials have been found to have illegitimate academic credentials, which also reflect on their competence at work.
These men have chosen the hard way of achieving the degree by acquiring the real knowledge, which is priceless capital even though they may not practice a new career in their retirement age.
_________________________________________________________________________________
In the last 12 years, Mr.  Nguyen Van Bieu, 67, and Mr. Le Van Xe, 69, have together diligently pursued studies with the passion and ambition that have never stop burning in the heart.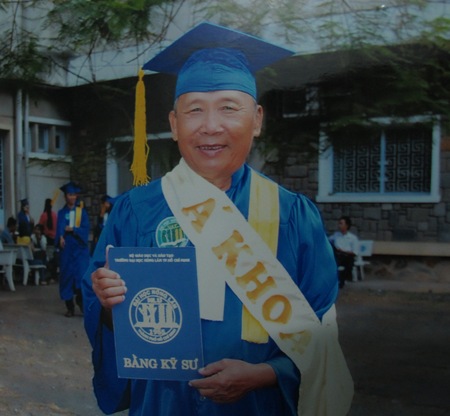 Mr. Nguyen Van Bieu in the graduation ceremony on 13/11/2012.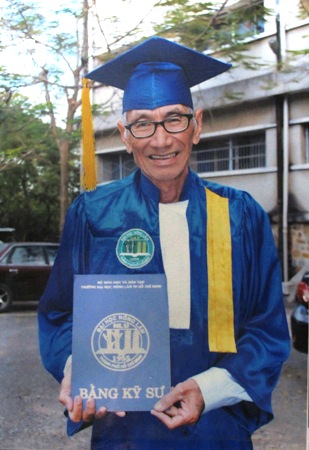 Mr. Le Van Xe receives his bachelor degree at the age of 69. 
Now the two old men, Mr. Bieu, in Hoa Phu Commune, Chau Thanh District, Long An Province and Mr. Xe in Binh Thanh Commune, Thu Thua District, Long An, have achieved the bachelor degree of the Ho Chi Minh City University of Agriculture and Forestry. Mr. Bieu is the second best graduate of the course.
Ending the days standing on the podium of the village school, it seemed that the door to knowledge was closed in front of Mr. Bieu and Mr. Xe, but that door again opened for the two men, who are always passionate about learning.
In 2000, the State issued the regulations: Individuals who want to sell plant protection products must have at least the intermediate degree on plantation and plant protection. To be able to be involved in this business, the two men became students of the Vocational School of Agriculture and Rural Development (now the Southern College of Agriculture)
Also from here, the friendship between the two men has become more intimate because they have the same aspiration: continuing to study to get a college degree.
After receiving the certificate of the vocational school, they pursued studying for three years more. In 2009, they got the college degree.
On February 23, the Association for Learning Promotion of Long An Province and the provincial Department of Education and Training presented certificates of merit to Mr. Bieu and Mr. Xe for being the examples in lifelong learning.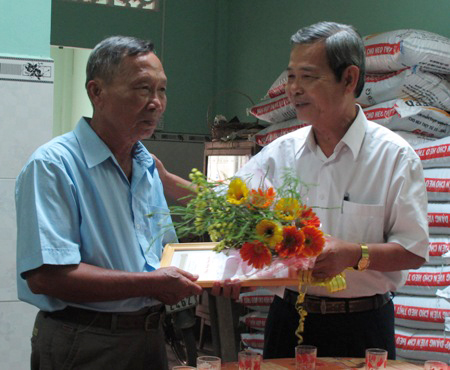 On 23/2, Mr. Pham Thanh Phong (right), Deputy Chairman of the Vietnam Study Promotion Association, Chairman of the Association for Study Promotion of Long An Province awarded the certificate of merit to Mr. Nguyen Van Bieu for setting a bright example on lifelong learning.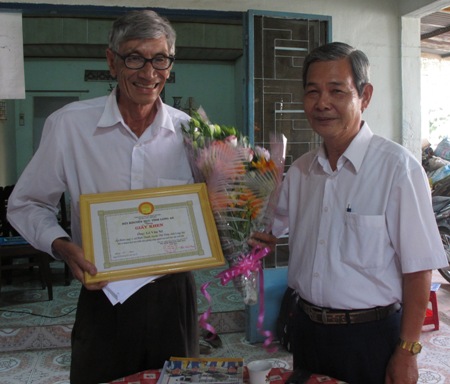 Mr. Pham Thanh Phong (right) presented the certificate of merit to Mr. Le Van Xe. 
The two men then became the students of the in-service university course of the Ho Chi Minh City University of Agriculture and Forestry.
During the course, they encountered a lot of difficulties. But despite how the weather was, they always tried to pass the road of 30km from their home in Long An to the school in Cho Gao district, Tien Giang province.
In 2009, Xe got an accident to his legs so could not run the motorcycle to go to school. Mr. Bieu had to pick up his old friend on every Friday, Saturday and Sunday.
"The time I had the foot pain, Mr. Bieu took me to school for a period of time. When he was busy, I hired motorcycle taxis to go to school. I did not want to be absent from school because every day to school was a joy for me," said Mr. Xe.
After two years of both working and studying very hard, they finished college. They received their bachelor degree on 13/11/2012.
Mr. Bieu and Mr. Xe said that their wives significantly contributed to their success in study. The two women took care of family, always supported and encouraged their husband in the study.
"He was not young but he had to pass a very long way to go to school so I and my children were very worried. We advised him not to learn more. But he said he had to go to school to set an example for the children and to expand knowledge to fulfill his desire from his childhood. Therefore, I always support him," said Mrs. Nguyen Thi Be, 68, the wife of Mr. Xe.
The children of Mr. Xe are well trained and have stable jobs as law and banking officers, while all six children of Mr. Xe are bachelors.
At the age of nearly 70, the two men wish to further study. "If I'm still healthy enough, I will still go to school to learn a foreign language and then get a master degree," Mr. Bieu said.
Compiled by M. Lan