Commentary: Chinese deployment of $ 1 billion oil rig on May 1st in Vietnam's territorial water under the protection of 80 paramilitary and military ships has sparked public consternation and outrage. This is the first time that Vietnamese authorities sanctioned and covered anti-China demonstrations to be held in Vietnam to protest the blatant Chinese infringement of Vietnam's territorial water since the border war in 1979.
Vietnamese communist party has not called for public demonstrations, but knows well that public outrage need to be allowed and contained. In the past, a dozens of anti-China demonstrations have been held in Vietnam since 2007 to protest Beijing's perceived aggression over territory. These protests were considered be illegal by the authorities and the media outlets were not allow to report to the public. The Vietnamese patriots have been castigated as in all terms that would be qualified them to be arrested and detained. The have been called reactionaries,  paid-trouble-makers, and anti-State propagandists.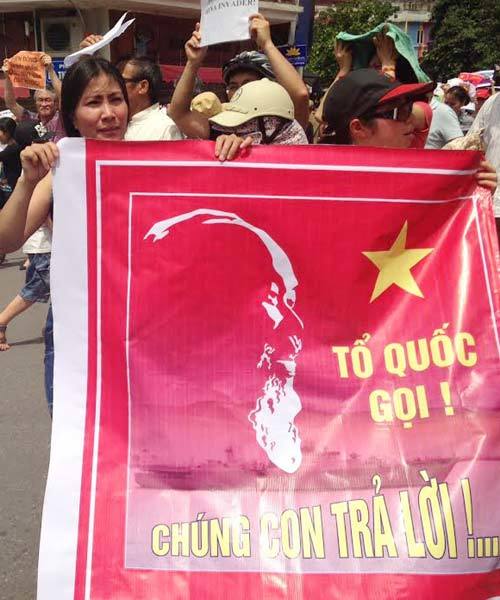 Today, new crowds of anti-China demonstrators supporting the government's policy joined in the pre-planned demonstrations called by civic organizations. One has to wonder the reasons that the authorities has partially sanctioned the rallies. It is simple, if you can't beat (contain) them, then join them! It is expected the stand off with China is going to be for a long haul, at least 3 months, the communists prefer to flood the crowds with these "hired" demonstrators or supporters in order to regain support from the people and hijack the anti-China movement.
Vietnamese Communist Party has not used their organizational structure to call on the citizens to protest. Therefore, it can only be reasonable to assume that most supporters of the government are for hired because the authorities have had a practice of accusing the patriotic demonstrators are hired trouble makers. Manipulating behind the scene is a preferable option for not offending the big brother Party Communist of China.
No matter what reasons motivate these men and women to take anti-China reaction, they should all be welcomed to express their patriotism and government's policy. Their demonstration's banners are very politically correct:
Strongly protest and ask China to stop immediately all illegal activities in Vietnam's waters.

Long Live to Communist of Party of Vietnam

To All People, United, Trust, Support and Execute the policy of  foreign affairs and defense policies of the Party and State.
Vietnamese take to streets in protest against China's oil rig incursion  
Thousands of people in major Vietnamese cities have taken to the streets Sunday to protest China's deployment of a giant drilling rig and a fleet of ships, including military ones, into Vietnamese waters.
Starting at around 7 a.m., the crowds of all ages gathered in major streets in Hanoi and Ho Chi Minh City and the central cities of Da Nang and Hue with banners written in Vietnamese, English and Chinese, demanding China withdraw its rig from the waters in the Hoang Sa (Paracel) Islands over which Vietnam claims sovereignty .
Some of the banners included: "China violated international laws!" and "Hoang Sa-Truong Sa belong to Vietnam," "Vietnam asks for peace, China answers with war," "Haiyang 981, get out of Vietnam now."
The people marched along the streets, waved Vietnamese flags, sang Vietnam's national anthem and songs about Hoang Sa and Truong Sa islands, and shouted in protest of China's violations.
The demonstrations are still going on. In 1974, taking advantage of the withdrawal of the American troops from the Vietnam War, China invaded the Paracel. A brief but bloody naval battle with the forces of the then US-backed Republic of Vietnam ensued.
Vietnam's behemoth northern neighbor has illegally occupied the islands ever since. But a post-1975 united Vietnam has never relinquished its ownership of the Paracel Islands and continues to keep military bases and other facilities on the Spratly Islands.
China and four members of the Association of Southeast Asian Nations (ASEAN) including Vietnam, the Philippines, Malaysia and Brunei all claim territory in the resource- and oil-rich East Sea, internationally known as the South China Sea.
Over the past years, Vietnam and the Philippines have accused China of harassing their fishermen and damaging their vessels in the disputed waters.
The tensions between Hanoi and Beijing resurfaced last week when the state-run China National Offshore Oil Corporation (CNOOC) moved a giant US$-1billion oil rig into position in Vietnam's exclusive economic zone in the Hoang Sa Islands.
On May 7, Vietnam released images and information about Chinese vessels intentionally ramming Vietnamese patrol boats protecting their waters.
The various incidents unfolded between May 3 and May 7 after China deployed roughly 80 ships to guard the giant mobile rig as it was looking to drill for oil and gas just 120 nautical miles off Vietnam's central coast.
Images and videos released at a press conference in Hanoi on May 7 showed Chinese boats ramming and firing water cannons at Vietnamese vessels, damaging the ships and injuring six Vietnamese fisheries surveillance officers.
On May 8, China acknowledged for the first time that its vessels had fired water cannons at the Vietnamese flotilla. But Beijing defended its actions by saying that it had no choice but to increase its security measures in response to what it claimed were Vietnamese provocations, Reuters reported.
One day ahead of a regional summit that begins Saturday in Myanmar, Vietnam called on other ASEAN member countries to speak with a common voice against China's latest move.
Vietnam's recent flare-up with China in the contested waters is likely to top the agenda at the summit, but analysts doubt any breakthrough will be achieved in a diverse bloc that remains divided over the issue.
But on the bright side, Southeast Asian foreign ministers agreed Saturday to jointly express concern over the latest sea collision between Vietnam and China.
Source Thanh Nien